Portrayed by Dustin Runnells, who wore a gold-and-black jumpsuit, matching facepaint, and donned a long straight-blonde-wig,
Goldust
was a character in mid-90's professional wrestling. He made references to the femme fatales of the early silver screen and one of his finishing moves, the 'Shattered Dreams,' was running across the whole ring to build up extra momentum for KICKING YOU IN THE BALLS.
(Note: the 'Shattered Dreams' is nearly the
awesome equivalent
of a Kevin Nash 'Jackknife Powerbomb.' God, that guy was just
made
to powerbomb people.)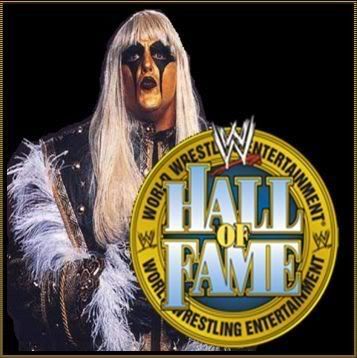 Dustin himself is the son of
Dusty Rhodes
- making Goldust the 'grandson-of-a-plumba.'
Eventually Goldust (kayfabe) developed Tourette's to humorous effect, and also cut a number of
awesome promos with Booker T
. As much comedian as he is wrestler, Dustin Runnells deserves whatever money can buy. (He now wrestles in TNA as Black Reign.)
"Remember the name... Goldust..." is Awesome.